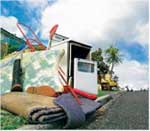 It's 'inorganic rubbish collection' time in Northcote, Auckland, New Zealand.
Northcote street-sides are loaded down with previously-wanted, cheaply-made, briefly-enjoyed and hastily-discarded stuff.
Interestingly, a rather large percentage of the items you'll see piled outside homes in the area can be seen in pre-broken, pre-rusted or pre-outdated condition in store advertising fliers like the "Outdoor Living '08" catalogue from the Warehouse (the near-exact New Zealand equivalent of 'Wal-Mart' – that corporation-of-all-corporations emanating from the U.S.).
Yes, the American disease of paying far-too-little for far-too-much is migrating shopping mall by shopping mall to New Zealand.
(I note in passing the 'hard to resist' wording chosen for the message overlayed the picture of 'Sylvia Park' shopping centre – which I watched suck the life out of what used to be the Panmure business district.  Really, we did need another shopping mall, didn't we?  Seriously, someone had to do something for those poor, confused Auckland women wandering the streets not knowing where they could obtain their 54th pair of shoes…   but I digress…)
But the cause for the amount of rubbish on Northcote streets (which seems – subjectively – more than last year?) has not only to do with the demand (which is met with abundant supply) for cheap goods…Â  It also has to do with our disposable culture.
The chair (or table, or BBQ, or microwave, or printer, or computer, or lounge suite, or washing machine, or computer desk, etc.) is broken.  I could fix it.  But – really – who can be bothered when I can buy a cheap replacement?
My good friend Derek Lind told me once about a small village he visited in a less-fortunate (or less cursed?) country.  He observed one 'family business' which collected all sizes and shapes of broken bits of brake-light reflectors from cars – and glued them carefully back together to sell.
These good people would find the streets of Northcote a literal gold-mine of (relatively) easily fixed goods to fix, use and/or sell.
What an interesting world we live, buy, use, sell, demand, shop, waste and dispose in.
(For a quite telling summary of how all this works, I can't reccomend strongly enough 'The Story of Stuff' – watch it right this moment.)
(p.s. – I wonder if fender-bender car crashes are more frequent during these times?  There seem to be a lot of people 'shopping' for use-able stuff on the side of the road – and paying a bit less attention to cars in front of them?)