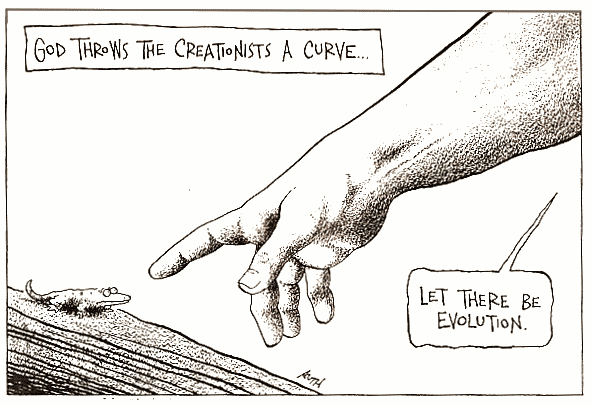 Many a debate could (and should) be cut short by a simple observation:
On one hand, evolution deals with how life has evolved and/or changed over time, while on the other hand, abiogenesis deals with how life began in the first place.
Theists (more specifically, the young-earth creationist kind) often use the mystery of abiogenesis to attempt to dis-prove, refute or otherwise argue-against evolutionary theory. The quick retort from opponents (both atheists and theists) is that evolution and abiogenesis are not the same thing. To which I would eagerly agree. They are most certainly not.
But… (there's always a 'but', isn't there?) …are they not quite connected?
At the very least, they are connected in that if (a) life never emerged from non-life, then (b) there would be no life to change, adapt, evolve or progress. Abiogenesis, then, is the 'foundation' for any and all 'evolution'.
(Be reminded – I'm not trying to employ a 'God-of-the-gaps' argument, by way of pointing to the 'gap' of abiogenesis to 'prove' that "…it must have taken God to do that." I am unhesitatingly a 'Creationist' in that I believe God is the Creator of all things, and for that very reason I refuse to use mouse-trap arguments which speak as if God merely acted only once, 'way back when' to get things going, and then slipped into obscurity for the rest of history – save the chance 'miracle' here and there to remind people He exists.)
So what about the connection between abiogenesis and evolution? Is it merely a historical connection – in that one 'happened' way back when and the other is still 'happening'? Are they over-lapping? (I was interested to discover, however, that an Irish scientist named Bernal suggested that Evolution may have begun before the formation of a cell (or 'proto-cell') – perhaps between the monomer and polymer stages. In other words, evolution before complete abiogenesis.) Could abiogenesis still happen? Could non-life still produce life?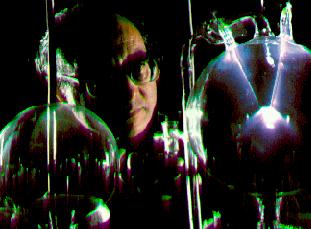 Miller (and Urey) tried to help it do just that. The oft-referred-to 'Miller-Urey Experiment' saw a mixture of gases produce amino acids. The problem, of course, has been that these amino acids (a type of monomer) have to then combine into polymers, and then into something able to replicate. So, there's a few steps left to get to 'life'.
Following from this, recent attempts are being made (by folks at the Institute for Genomic Research) to engineer simpler and simpler cells (with less and less genes) to –effectively– show how this 'leap' might have been (or the more dogmatic way to say it – 'certainly was') a shorter one way back when.
Again, I'm not trying to 'keep the gap wide for God'. But why must we assume that the first living things were incredibly simple? Is it because we can't imagine it any other way? Is it because they have to have been simple or else it couldn't have happened?
Much like the field of cosmology, the theories at this point splinter-off in innumerable directions, making it very hard to be precise and summarise at the same time. The questions are exciting and numerous. At what point can we officially say something is 'living'? Just how would replicative things come about? Are things 'alive' before they can replicate? Can any of this happen today? If not, why not?
Please excuse this rambling post… It's just where my head's been at for a few days…